Let's Keep
Louisiana Beautiful

Written by Susan Russell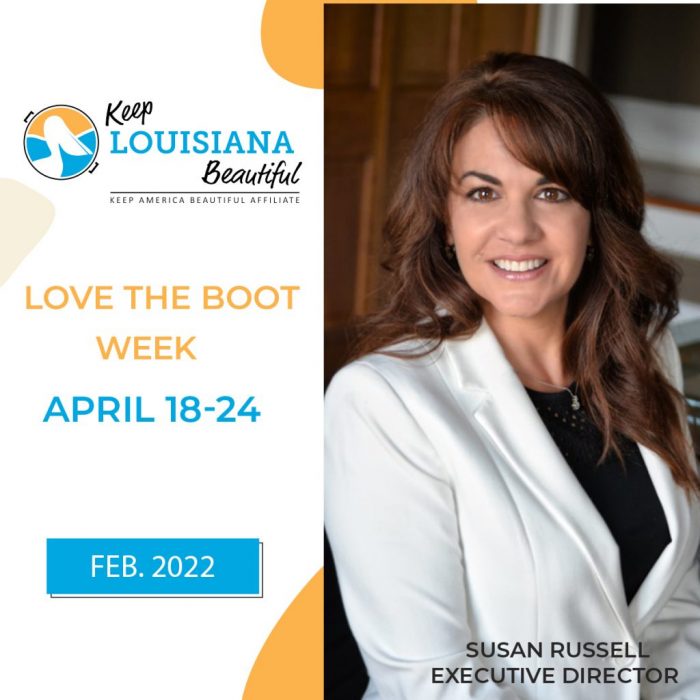 Let's Keep Louisiana Beautiful

Love the Boot Week is April 18-24

Written by Susan Russell

Keep Louisiana Beautiful invites Louisianans to work together to organize and participate in cleanups and beautification events during Love the Boot Week, our state's week-long Earth Day initiative happening April 18-24. Across the state, we will see involvement from businesses, schools, families, individual citizens, and entire communities.
Litter in Louisiana
Litter is not a new problem for Louisiana's 64 parishes. For decades, litter has become increasingly detrimental to our communities, leading to a multitude of repercussions such as:
Blight on natural areas, cities, towns, roadways, and waterways
The death of wildlife and marine life due to polluted habitat
Consequential decline in quality of life in neighborhoods
A negative impact on economic development, hurting investment, infrastructure, and tourism
Flooding caused by storm drains clogged with litter and debris
The Story Behind Love the Boot
Since 2000, Keep Louisiana Beautiful and its network of 39 affiliates focus on education, enforcement, awareness, litter removal, and beautification. Our goal is to promote personal, corporate, and community responsibility for a clean and beautiful Louisiana. Seeing the need for a statewide effort to address our litter issue, Keep Louisiana Beautiful developed Love the Boot Week. We couldn't be more excited to get this vital campaign off the ground with the support of the Governor and Lieutenant Governor.
Let's Work Together
Sportsman's Paradise won't be litter-free overnight. Still, by coming together during Love the Boot Week, we can bring awareness to the issue and take steps toward achieving a more beautiful Louisiana.
Visit www.lovetheboot.org to register your Love the Boot Week event or sign up to volunteer for an existing opportunity. We look forward to seeing how you #LovetheBoot on social media!
Susan Russell, Executive Director of Keep Louisiana Beautiful
Susan Russell has served as Executive Director for Keep Louisiana Beautiful since 2014. Before leading the state office, she spent eight years as a local affiliate director for Keep Mandeville Beautiful.  
Her experience specializing in non-profit management, strategic development, program development and implementation, grant administration, event planning, communications, and marketing spans over 30 years. She has worked for the national non-profit organizations, Special Olympics, and Volunteers of America during her career.
Susan serves on the executive committee for the Keep America Beautiful State Leaders Council and the executive committee for Keep Louisiana Beautiful. She serves as a board member for the Louisiana Recycling Coalition and the Ozone Music Education Foundation.
As Executive Director, she leads the only statewide organization focused on litter prevention, waste reduction, recycling, and beautification. She oversees a grants program that has awarded over $3 million to fund local projects, offers environmental education lessons targeting K to 5th-grade students, conducts training and professional development, and supports local communities and a network of 39 affiliate organizations to increase their capacity to facilitate community and behavioral change.  
You can view a video from First Lady Donna Edwards about this campaign here.