Congratulations to the
Governor's Fellows Class of 2022!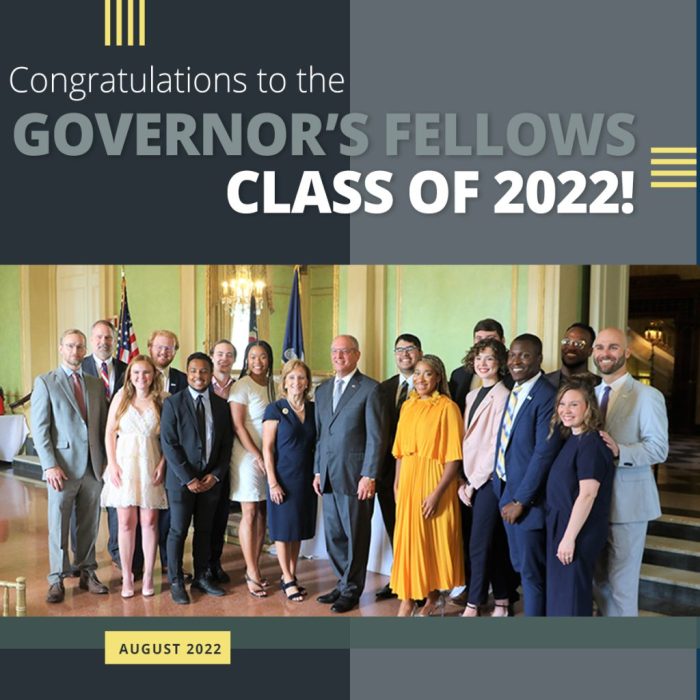 Congratulations to the
Governor's Fellows Class of 2022!
On August 4th, eleven student leaders from across the state of Louisiana joined Governor John Bel Edwards and First Lady Donna H. Edwards for the commencement of the 2022 Governor's Fellows program. While this ceremony marked the end of their time with their respective cabinet-level agency, it marked the beginning of the profound impact they will have in their own communities moving forward.
Over the course of the summer, these students got the chance to experience public policy in action, learn the rich history and current affairs of Louisiana government, and earn three hours of academic credit through LSU's Department of Public Administration. Each Fellow was assigned to a cabinet-level agency in Baton Rouge and had the opportunity to gain valuable experience by collaborating with agency leaders on existing projects, observing firsthand the Governor's leadership strategies, and learning how state policies are developed. 
Bailey Willis, a rising senior and current student body president at Northwestern University, was assigned to the Office of the First Lady and the Office of Human Trafficking Prevention. Through her fellowship, she attended various conferences and gained an in-depth knowledge of the inner workings of state government which culminated in the development and presentation of a policy proposal to Governor Edwards, his cabinet, and staff.
Bailey's policy proposal focused on tangible actions universities can perform to create a more supportive campus for students' mental health needs. Bailey hopes this proposal will be adopted state-wide; however, as student body president, she is committed to implementing these policies on her campus this year.
Congratulations to Bailey and her fellow Fellows – Louisiana's future is bright!