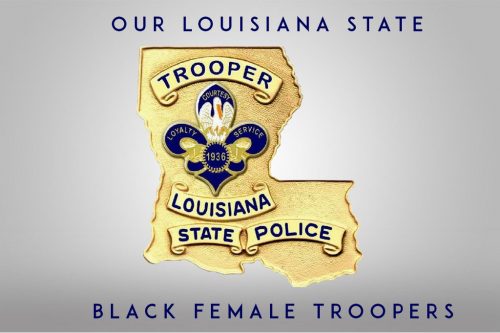 SHAUNA SANFORD
Communications Director
Office of the Governor
Black History Month
As we celebrate Black History Month, there are countless Louisianans who have contributed significantly to our state and nation's history.  They are the trailblazers and pioneers who have left an indelible imprint that continues to inspire.  This month, we share the story of the African-American female Louisiana State Police Troopers. Among the most well trained law enforcement officers in the country, these troopers are proudly and courageously paving the way for others to follow.  We salute them for their service and for inspiring all women to never give up on their dreams.
According to the most recent data, there are 1063 Louisiana State Police troopers, out of which 45 are women and of that number, 8 current female troopers are African-American.  Women were allowed to join the force in 1974.  Trooper Joyce Stephanie Isaac Thibodeaux, now deceased, started her career with the Lafayette City Police Department and in 1976 she became the first Black woman to join the Louisiana State Police Dept. She retired after 21 years of service.  
"I was fortunate to work with her," says Lt. Charron Thomas who joined in 1992. "She faced a lot of struggles being the first one, and she gave me a lot of advice that helped me."  
After a career in the Army National Guard, Lt. Thomas knew she wanted to become a trooper. And 27 years later, she is still going strong.  "Being in a male dominated workforce is a challenge for all women, which is why we have to support each other, but it is a rewarding career."
"I consider myself fortunate to be able to stand on the shoulders of the previous black female trailblazers such as Lt. Thomas and the late Trooper Thibodeaux," says Sr. Trpr. Zuleika Joseph. "I hope that I set a good example for our youth and that some little girl who sees me may one day want to be a trooper or maybe even the superintendent of the Louisiana State Police."
Trooper Joseph joined in 2006 with the goal of making a difference in her community and being a role model for the youth.  "Where I grew up there weren't any black female police officers.  I kind of felt like it was impossible for a black female to become a police officer, but as I got older I realized that it was possible and that I had to be willing to do the work."
Every time I put on my uniform, it fills me with a sense of pride," says Trooper Melissa George.  "Going through the academy, knowing you worked hard from sunup to sundown to earn that badge, it means everything to me."
At the time she joined, in 2017, George says she knew that there were very few women and even fewer women of color.  "It motivated me to make it happen.  I prayed about it and once I decided, I was all in. And I do feel the responsibility of helping to carve a path for other women to follow."
Sgt. Sanikka Williams has been on the force for 17 years and says it's important for them to be a life-line for each other."
There have been difficult days. "I have encountered situations where the people I had to stop or arrest clearly had problems with me having the authority to do that," says Williams. "There are people out there who feel that way. But I can say there's been more of that from the outside than from the inside." 
With 25 years in law enforcement under her belt, Sr. Tpr. Lisa Quijano has been with LSP for 12 of those years.  She was a prison warden in Plaquemines Parish and several male troopers whom she had come to know over the years encouraged her to join the force.  She stepped out on faith, applied and was selected.
"There were 57 guys in my class, and I was the only woman. They were like my brothers, but I was still nervous going through the academy.  The other women were there for me.  They would send me text messages and phone calls and tell me to keep my head up.  That was my encouragement every day.  They would say we got you, you're going to make it."
Trooper Quijano lives by the motto each one, bring one. "I'm a black woman in law enforcement, and I'm very aware of that. My mother would say whatever mountain is in your way, God will give you the strength to climb it." Her message to other women is simple, "When you get to the top, I need you to reach back and grab the young lady behind you and help her get to the top as well. As females, we need more of that.  Women can do this, and we need the doors to open wider for others to come through.  This is a career you can have."
Trooper Qualyndrea Jones was with the New Orleans Police Dept. for 10 years before joining the LSP in 2017.  "My kids are always my biggest supporters.  When I learned I was accepted into the academy, my family wanted to throw a party. I had to tell them congratulate me when I graduate." 
Jones will never forget her first day in the academy. She was given some advice that remains with her to this day, "Do not quit!  No matter what, do not quit.  I could not give up no matter how hard things got. My completion of the academy was bigger than me.  My climb wasn't easy to get where I am. With all that I faced, I managed to earn my Bachelor's Degree in Public Administration/ Emergency Management and got my life in order, and here I am today."
They all agree that it's a career you have to really want. Trooper Tiah Larvadain knew from a kid that she wanted it.  Not surprising considering her mother is Lt. Treone Larvadain who obviously set an incredible example.  In 2018, they became the first mother and daughter troopers in the 82 years of the Louisiana State Police history.
Lt.  Larvadain, one of only two Black female lieutenants on the force, joined state police in 2006 (on Tiah's birthday).  Tiah was right by her side the day she graduated from the academy.  And when Tiah graduated, her mother was right there too.
"The reason I joined was because of my passion to serve people. I've always wanted to give back, serve the public, impact lives and change behaviors," says Larvadain. "Being a black female state trooper comes with much responsibility and authority, and how we use that authority will determine the success of not only me, but those I serve and the success or failure of our mission to public safety."
"Seeing the impact my mom had on the community and how they responded to her in such a positive way, I knew it was something I wanted to do," says Trooper Larvadain.
Knowing she could earn the right to wear the blue uniform like her mother was a driving force that kept Tiah determined to complete the rigorous training academy, and she did so as the only woman in her entire class.
"As a kid, I probably tried my mom's uniform on many times, but now when I put on my uniform, I know that for 22 weeks I put in the hard work to earn it. It's a feeling of pride."
As the newest member to the force, Trooper Larvadain recalls how her fellow troopers also influenced her decision to pursue this career.
"During my last semester in college, I did an internship at the academy, and I watched now Trooper Melissa George as she was going through the class. I was rooting for her and the other ladies. They also played a part in my decision to join, knowing that they went through it and succeeded and I could do the same."    
Without a doubt, all of the troopers would love to see more women join state police. "We need them!" says Lt. Larvadain. 
*Master Trooper  Joanne Rozigas was the first Black female trooper for Troop B in New Orleans.  She retired January 5, 2019 with 20 years on the force.