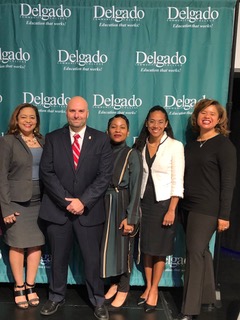 ANTI-HUMAN TRAFFICKING
Words from
Arnel W. Cosey, Ph.D.
Human Trafficking, described by many as modern day slavery, has gripped our communities attacking the state's most precious assets – our children and their families. Despite one's personal beliefs and/or acceptance of the misconceptions surrounding the issue, its existence is a reality we can no longer afford to ignore or deny.
Recently, I decided to support the herculean efforts already underway by local/state/federal law enforcement agencies and several community organizations, following two personal experiences within a six-month period. The first was a request for assistance from an official with the Office of Homeland Security that involved a trafficking victim – a college student with an impressive GPA who lived with both of her parents – at the college where I am employed. My second experience was witnessing a teenager being trafficked in my small and excluded subdivision on the Friday night of the French Quarter Festival.
Driven by a desire to "do something", these two situations motivated me to host a panel discussion to enlighten the entire campus about the pervasiveness of trafficking. The panel of experts that included the Commissioner of Louisiana Office of Alcohol & Tobacco Control, the Chief Judge of Juvenile Court in New Orleans, a parent advocate, and representatives from the FBI, Homeland Security Investigations, The Covenant House, and a physician with LSUHSC, provided diverse perspectives on the subject. Each panelist highlighted the importance of community support for law enforcement agencies and presented a convincing case for intentional collaboration. Educational forums, such as this, can serve as a fuse to ignite effective collaborations with for a transformational impact. This one panel discussion inspired attendees in the same manner as I had been to take action and led to three additional events in their respective communities.

Governor and First Lady Edwards have made the commitment and taken steps to combat this predatory crisis, but they can't do it alone. They need the support in every community in this great state to stand up and join forces with them.

-Arnel W. Cosey, Ph.D.