SUNFLOWERS
at the Governor's Mansion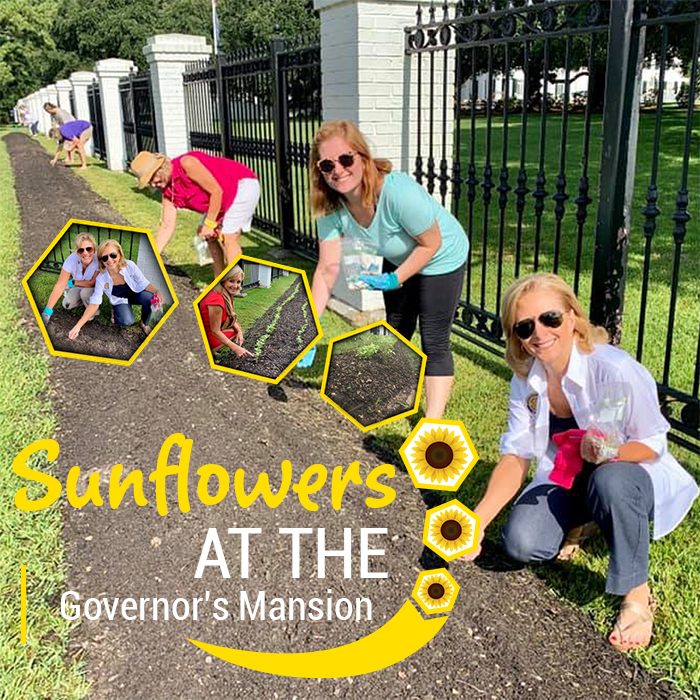 SUNFLOWERS
at the Governor's Mansion
Two rows of glorious sunflowers are waiting to bloom in front of the gates of the Governor's Mansion. The yellow color of the sunflower symbolizes vitality, intelligence, and happiness and friendship. Sunflowers are often given on 3rd year wedding anniversaries as signs of adoration, loyalty, and strength. Here in Louisiana, the sunflower can be seen growing in fields and gardens all over the state.
Sunflowers also symbolize worship and faithfulness in various religions because of their resemblance to the sun, which is associated with spiritual knowledge and the desire to seek light and truth. Helen Keller said, "Keep your face to the sunshine, and you cannot see the shadows. It's what the sunflowers do."
There is some excellent information about sunflowers on the National Sunflower Association's website: https://www.sunflowernsa.com/all-about/history/ 
Check out our teacher's connection to sunflowers: https://stompnchat.com/
If you happen to be in the area, come by and see the beautiful sunflowers outside the gate!