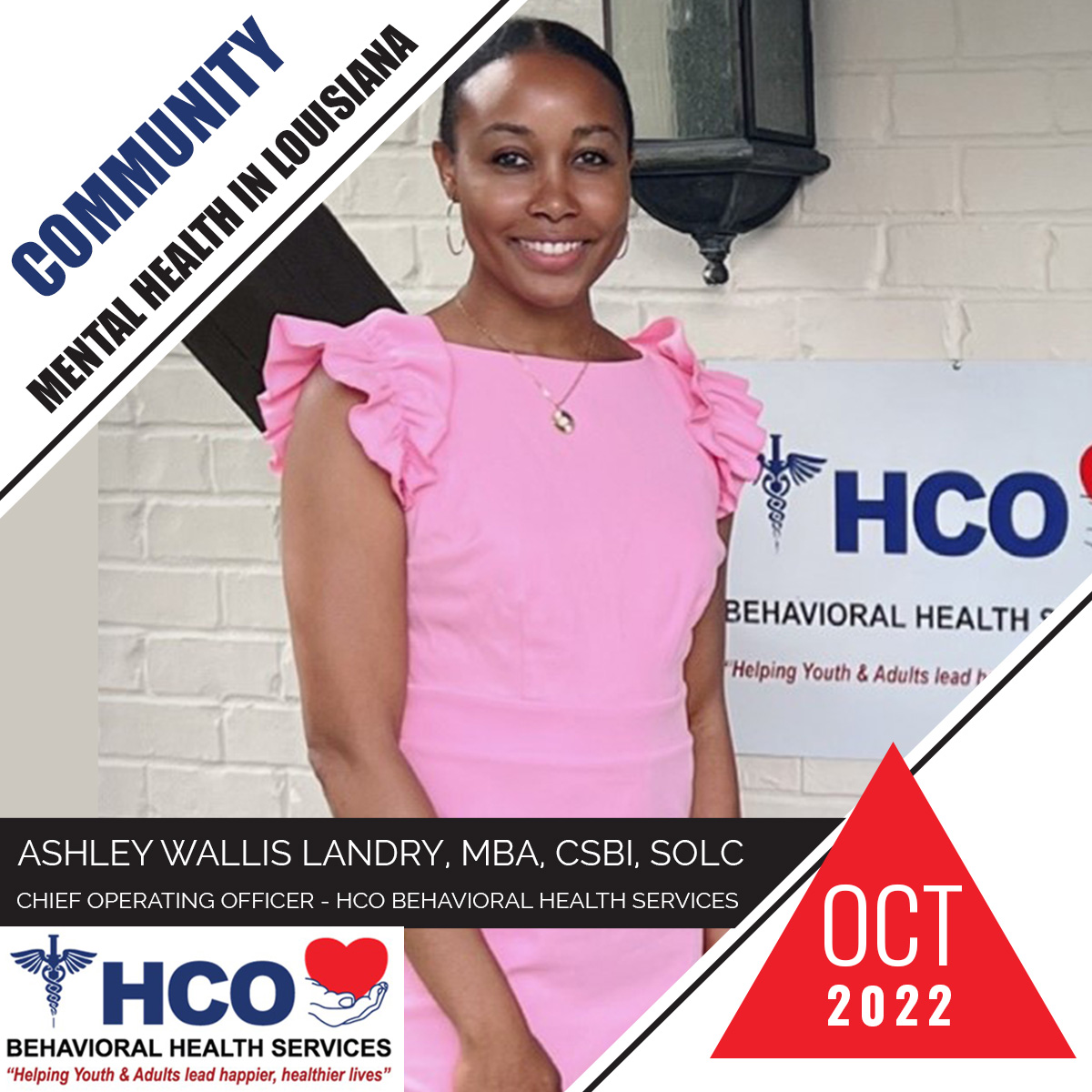 ASLEY WALLIS LANDRY,
MBA, CSBI, SOLC


Chief Operating Officer,
HCO Behavioral Health Services



Mental Health Community in Louisiana
by Ashley Wallis Landry, MBA, CSBI, SOLC
CEO - HCO Behavioral Health Services
Asking for help to improve your mental health does not have to be scary. HCO Behavioral Health Services is here for each step of the journey.
Did you know?…
According to data from the Substance Abuse and Mental Health Service Administration (SAMHSA), 1 in 5 people experience a diagnosable mental disorder in any given year – for the state of Louisiana, this statistic is an estimated 650,000 adults and 245,000 children (LDH.LA.GOV). Unfortunately, about 40 percent of individuals with mental health concerns do not seek professional help. (Forbes, 2021) These statistics are more than just mere numbers. These staggering numbers could represent your mother, father, sister, brother, and even your closest friends. According to the National Alliance of the Mentally Ill (NAMI), serious mental illness is defined as a diagnosable mental, behavioral, or emotional disorder that meets the criteria of the Diagnosis and Statistical Manual of Mental Disorders and results in functional impairment substantially interfering with or limiting one or more of life's activities. In most cases, the individuals that do not seek the necessary treatment to improve their mental health feel shame and humiliation for speaking up and refuse to ask for help. The impact of mental health on our community and the delayed promotion of mental health awareness has pledged Louisiana for far too long.      
Equip, Empower, Enact Change  
At HCO Behavioral Health Services, we are passionate about impacting the mental health community in Louisiana. At HCO BHS, we offer caring, compassionate, and complete therapy by providing services to our clients in person and online. While recognizing that one of the biggest obstacles to care is access, HCO has service providers in Baton Rouge, Lafayette, Gonzales, Ponchatoula, Hammond, and surrounding communities. We specialize in Mental Health Rehabilitation (MHR) services for adults and adolescents starting at 6. HCO also has services dedicated to treating clients that are Military – Active Duty, Reservist, First Responders, and their family members. More recently, we have joined in solidarity with other community partners against Human Trafficking.
Additionally, we have Licensed therapists that treat clients with trauma and crisis, especially clients that were victims of sex trafficking. Our goal is to treat clients with the care and compassion needed to overcome life's challenges and reclaim the life that all individuals deserve. Every program and all sessions are tailored specifically to the client's needs with the hope of reestablishing ways to successfully work, learn, and function fully in their communities. 
Because many people with a serious mental illness also suffer from substance abuse/dependence, we recently opened Empower Recovery Center, an Intensive Outpatient Program designed to treat the whole person. Studies show that over 25 percent of adults with a serious mental illness also abuse alcohol or illicit drugs. HCO specializes in co-occurrence and a dual diagnosis method that treats clients' substance abuse and mental health needs in one setting. More recently, Empower Recovery Center forged a partnership with Crossroads Recovery Center of Louisiana, who specializes in MAT (Medication-Assisted Treatment) in both Baton Rouge and Gonzales. This affiliation allows clients the best opportunities to fully recover from drug abuse no matter what stage of the journey a person finds themselves. 
The Care You Deserve.
If you or a family member has mental health concerns, today can be the start of the best chapter in life. At HCO BHS, we allow our clients to guide the entire process from start to finish as your counselor works with you to help you find a path through your emotions, fears, pains, and anxiety. At HCO BHS, we believe in a future where mental illness can be without stigma, a future where mental illnesses are communicated without fear, and a future where everyone with mental health concerns can access effective treatment, critical resources, and a strong support system. I wholeheartedly believe in the work we do at HCO Behavioral Health Services. Our staff is dedicated to treating persons living with mental illness and is committed to serving clients with hope, love, and a caring heart. At HCO BHS, we make getting the help you need simple.
Now is the time to change the narrative. Today we will reduce the stigma around mental health. We bravely encourage all to have honest conversations centered around improving mental health wellness, providing access to treatment, and advocating for preventive measures.
Call us today to start your journey at 225-261-7143 or visit our website at HCOHealth.com
LinkedIn: @Ashley Wallis Landry