Be in Full Voice, Exercise Agency, and Extend Grace
Words from
Dr. Adren Wilson
Deputy Chief of Staff for Governor John Bel Edwards

Be in Full Voice, Exercise Agency, and Extend Grace
I was asked by First Lady Donna Edwards to share my written reflections on the horrors of the last weeks and months as African Americans – Breonna Taylor, George Floyd, Ahmaud Arbery, and others – have senselessly been killed by those charged to protect them and the resulting protests across the country. As an African American man it is hard to fully express the emotions I am feeling all at once, which include anger, frustration, sadness, and despair, so I decided that the only way I could make sense of all of this for myself is to reflect on a couple of defining moments and influences in my life as a Black man.
I will forever be shaped by my journey that began in rural Louisiana, and forever shaped more by the color of my skin than any other influence in my life. Personally, having grown up in the 1980s in extreme poverty as a Black man in rural Louisiana with a single mother and four younger sisters, with no running water or indoor plumbing in the home, and going days and nights without food, I understand the importance of the American dream. The hope the American dream offers is that every person will be worthy of respect and live a life full of opportunity, peace, and prosperity, if they only just work a little harder, and educate themselves just a little more. However, it only took 30 seconds the first time I was called the "n-word" or when I was face down on pavement with officers standing above me with guns drawn for me to realize that, regardless of what I do to educate myself, for some I would always be a second class citizen living in their nation-state. In the face of that I remain forever grateful for my African-American mother, teachers and mentors of all races who dreamed for me until I could dream for myself!  Unfortunately, they would never be able to dream away the harsh realities of growing up as Black man in America.
The first time I saw the video of George Floyd's life being suffocated from his body I thought about Marian Wright Edelman, my mentor and second mom, and so many other luminaries from the civil rights movement, some of whom are no longer with us, who taught me powerful lessons. All at once I was numb to an American horror narrative that replays itself over and over and over again. For those of you who don't know Mrs. Edelman, she worked with Dr. Martin Luther King Jr. during the Civil Rights Movement, is a life-long children's advocate who founded the Children's Defense Fund, was the first African American woman admitted to the Mississippi Bar after graduating from Yale Law School, and received the Presidential Medal of Freedom in 2000. Through my experiences with Mrs. Edelman, I had the opportunity to learn from the leaders of the civil rights movement and understand the power of collective action and the brutality of police officers and white mobs as people fought for the right to vote and for opportunity for their families. I remember sitting at the feet of these American luminaries and feeling humbled as they shared that they would sing civil rights songs to overcome the fear of the beatings they knew were right around the corner and hearing that they knew fear – that they were afraid – but understood that this was a calling to demand justice they had to answer. It was their moment.
Since the initial viewing of the video of the killing of George Floyd, America's children – Black and White and Brown and Young and Old – have taken to the streets in ways our country hasn't seen since the Civil Rights movement of the 1960s. I am struck by the following questions: What will we learn from this moment? What will change in our country as a result of this moment? How will my white sisters and brothers help bring about that change?  How will I as a Black man ever feel fully safe?
What is clear to me is that any reasonable path forward requires all of us to be in full voice, to exercise our God-given agency, and to extend Grace. These words of Marian Wright Edelman always speak to me in a special way: "If you don't like the way the world is, you change it. You have an obligation to change it. You just do it one step at a time." This is our time, our moment to take steps together to finally end America's original sin: racism.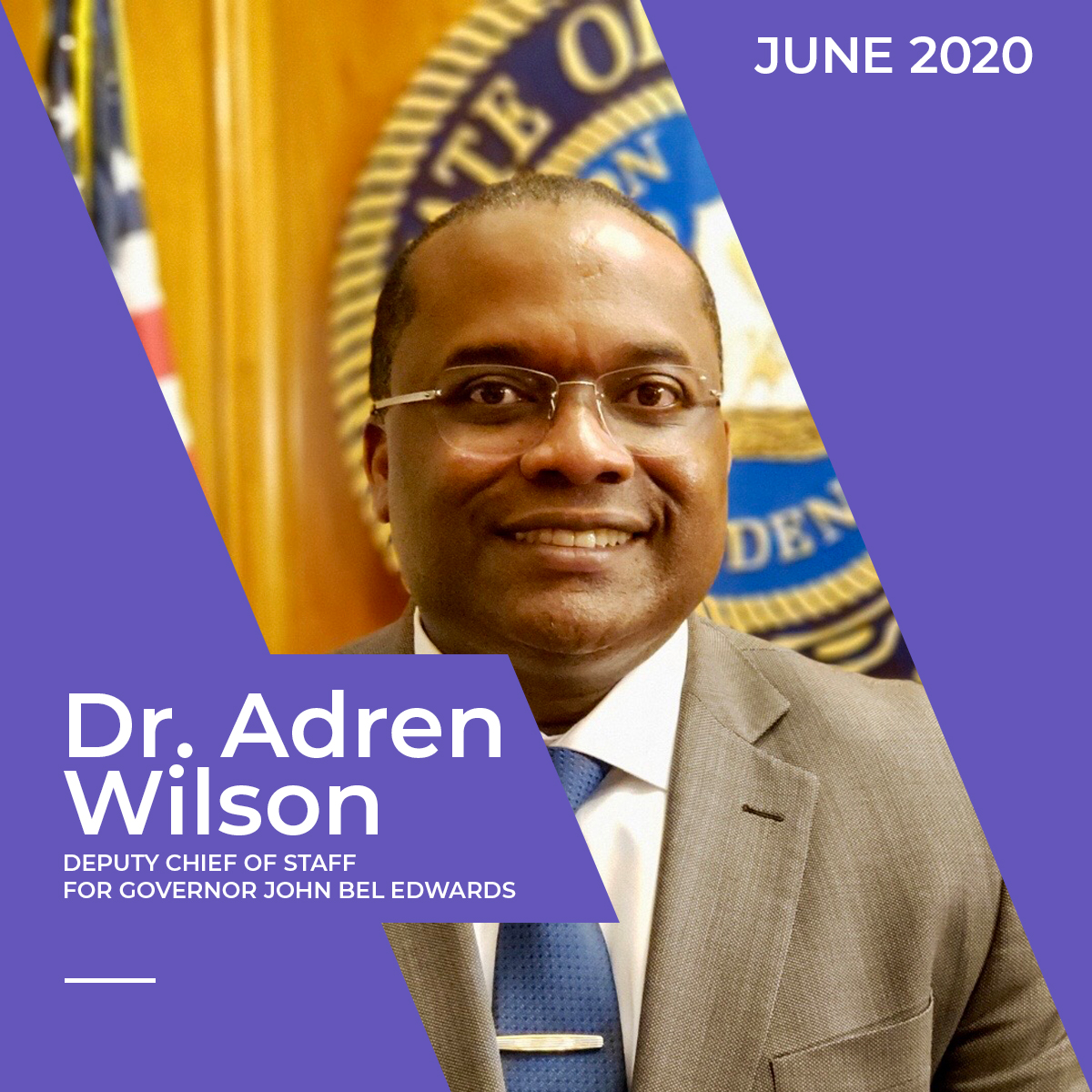 Dr. Adren Wilson
Dr. Adren Wilson is a talented national leader committed to equity and justice. He currently serves as the Deputy Chief of Staff for Governor John Bel Edwards. Most recently, Dr. Wilson served as the national CEO of Public Allies, an AmeriCorps national service program that has advanced the leadership of more than 8,000 diverse young leaders in 25 cities since 1992. Under Dr. Wilson's leadership, Public Allies has expanded its presence in the Gulf South and recently launched its newest program in New Orleans.
A native of rural Louisiana who himself grew up in extreme poverty, Dr. Wilson has held an escalating series of leadership positions as a national CEO, community leader, administrator, and reformer working to lift individuals, families, and communities out of poverty. Prior to joining Public Allies in 2014, he led workforce development and community college retention efforts as Gulf Coast Regional Director for Single Stop USA. Previously, he developed transformational leaders for public schools as Executive Director of New Leaders Greater New Orleans; worked to end persistent poverty in the South by leading the Equity and Inclusion Campaign; and trained thousands of young leaders to advocate for and serve the needs of vulnerable children and families as National Director of Youth and Student Leadership at The Children's Defense Fund in Washington, D.C., and later in Louisiana. 
In this capacity, he led youth leadership development programs such as Freedom Schools, the Student Leadership Network for Children (SLNC) and Advanced Service and Advocacy Workshops. Under Dr. Wilson's leadership, CDF trained thousands of college students representing LSU, Southern University, Harvard, Yale, Morehouse, Spelman and countless other institutions, at the former Alex Haley Farm in Clinton, TN.
His early career in education included serving as a middle school history teacher in Baton Rouge, LA and working in numerous capacities at Louisiana State University. Dr. Wilson served as Residence Life Coordinator, Admissions Officer, and University Advisor for a group of 4,500 students. Through his work at LSU, he received many honors, including University Advisor of the Year. In 1995, the institution established the "Adren Wilson Outstanding LSU Ambassador Award," an undergraduate leadership honor that is bestowed annually on a top LSU Ambassador.
Wilson earned a Master in Public Administration from the Kennedy School of Government at Harvard University, and he has a doctorate in Public Policy from the Nelson Mandela School of Public Policy and Urban Affairs at Southern University. He received Bachelor of Arts degrees in History and Political Science from Louisiana State University.