OPERATION
RAHAB
RESCUE, ASSESS, HEAL, BREAK FREE
THE HUB MINISTRY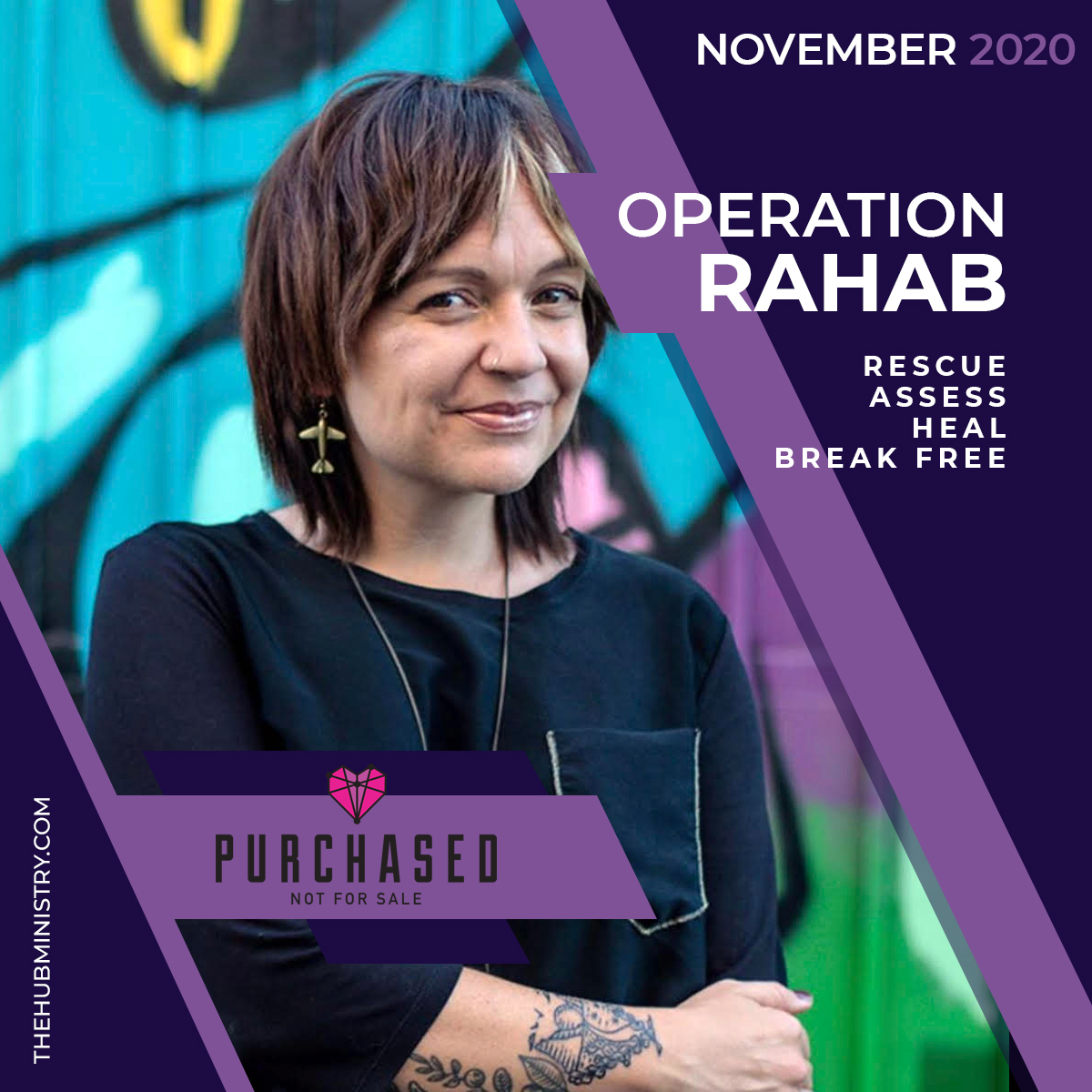 OPERATION RAHAB

The phone rang to the hotline of an anti-trafficking organization in Louisiana. It was an ER nurse from a local hospital. She reported that a suspected victim of trafficking was present in the ER, and they wanted the organization to come and speak with her. The victim was experiencing withdrawals from a substance and had been through significant trauma. Conversely, there was no medical concern or reason to be admitted into the hospital. The organization gathered the information and planned to meet and speak with the victim. The hospital then delivered the last piece of information – the suspected victim was already being discharged.
No time. There is no time to plan, arrange for safe housing, and allow the victim to make decisions for her future. Without a medical reason to admit, the hospital could no longer keep her.
The phone rang to the hotline of an anti-trafficking organization in Louisiana.  It was a law enforcement officer with an identified victim of sex trafficking at a local motel in the middle of the night. She needed assistance, clothing, shelter, but most of all, safety.  The organization informed the law enforcement officer that there would be nowhere to take the victim at that time of night.
No safe place to go. There is nowhere to place this victim safely away from her pimp, and their only option would be to book her in jail, which is not where a victim of sex trafficking belongs.
A lack of safe, emergency placement, and time to coordinate services that give a victim the dignity of options has long been an issue across our state. Louisiana is blessed to house some incredible anti-trafficking non-profits, Child Advocacy Centers, domestic assault safe homes, and a ton of other resources for some of the most vulnerable in our communities. Our state is home to some incredible warriors fighting for justice for the exploited and victims of sex trafficking on the front line.
If you asked any of them what the greatest need is for suspected or identified victims and the agencies fighting for them, they would probably respond with: immediate emergency placement.
Purchased: Not for Sale in Shreveport, LA came up against the ticking time-bomb of "nowhere to go" countless times before they began to dream a way to solve it.
Enter: Operation Rahab!  (Rescue, Assess, Heal and Break Free)
Ochsner LSU Health Shreveport, in partnership with Purchased: Not for Sale, developed a new initiative to address the immediate and emergency needs of suspected or identified victims of human trafficking, both adult and juvenile, in our state. After many years of partnership through training and many active cases together, Purchased and Ochsner LSU Health Shreveport have developed a response to one of the most significant challenges in providing rescue and recovery to previously identified human trafficking victims: emergency placement.
Operation RAHAB allows identified victims to be assessed through the ER using an emergent medical screening and placed confidentially in a patient room under observation or inpatient (if criteria met) status. This process allows hospital staff to manage their health while Purchased: Not for Sale works to manage their well-being. This partnership removes the victim from immediate danger. It gives an expanded timeline for the victim and all necessary agencies to work towards the best end for the victim and gather the essential information for subsequent legal cases. Lastly, this process allows the victim time to de-escalate emotionally, detox from any substances in their system, and begin the process of healing and restoration with a clear mind and in a stable environment.
We know that this is not the only solution to the long list of hurdles that victims face, but we believe it is an incredible response to a great need in our city. Time, choice, and safety; three things that most of us take for granted every day, but three things that, if given, could save a life.
For more information about Purchased: Not for Sale, visit www.thehubministry.com or find The Hub on Facebook and Instagram @thehubministry.
Cassie Hammett
Founder & Executive Director of The Hub: Urban ministries