National Adoption Month

Louisiana marked National Adoption Month on November 3 with a celebration at the Governor's Mansion honoring 538 families who adopted 700 children and youth from foster care during the past year.
Among the state's 700 adoptions from foster care in Federal Fiscal Year 2022 were three young-adult adoptions from the Extended Foster Care program, which serves young adults ages 18-21. Another 55 adoptions – or 8% of all adoptions this year – were of youth aged 13-17.
Altogether, 269 siblings were adopted together by 122 families, including 99 families who adopted two siblings, 21 families that adopted three siblings, and two families each adopted four siblings this year.
Fifteen of this year's adoptions were completed with the help of Wendy's Wonderful Kids recruiters, specialized adoption workers assigned to take on some of the most challenging and complex cases through a partnership with the Dave Thomas Foundation for Adoption. Louisiana has 9 Wendy's Wonderful Kids recruiters, including one who works within the Extended Foster Care program.
Louisiana Fosters Luncheon Held October 11
First Lady Donna Edwards hosted the annual Louisiana Fosters luncheon on October 11 at the Governor's Mansion. Louisiana Fosters is a statewide campaign linking government, faith, non-profit, business, and service communities in support of foster parents and children. 
Organizations in attendance included DCFS along with non-profits Crossroads NOLA, Northshore Enduring Hope, and One Heart NOLA. Representatives shared their experiences working with children and families in the child welfare system and highlighted the importance of community partnerships in serving foster caregivers, birth families, kinship families, and foster children. 
Faith leaders and pastors in attendance were invited to connect with Louisiana Fosters Partners to learn how churches can get involved in meeting the needs of their local foster care communities. 
If you are considering adoption or fostering a child, take that first step by attending a free virtual orientation session. Check out the current orientation schedule. For more information about becoming a foster/adoptive parent and the training available, visit dcfs.la.gov/foster
November Adoption Spotlight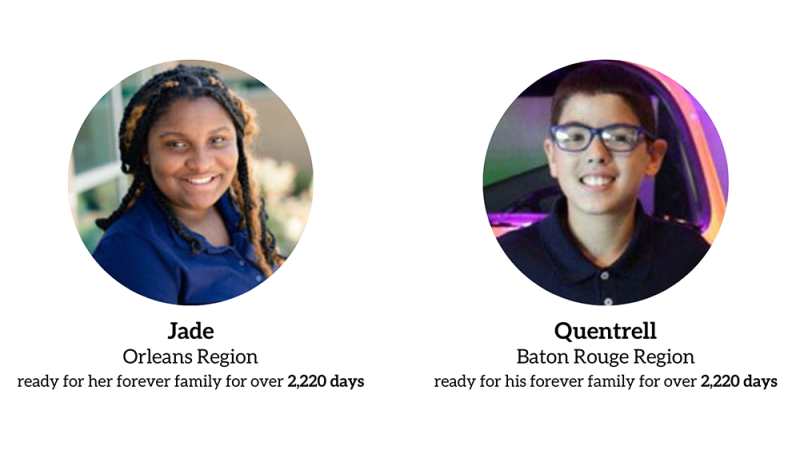 This month's adoption spotlight features Jade (16) from the Orleans Region and Quentrell (15) from the Baton Rouge Region. 
Jade has been ready for her forever family since October 2016; that's more than 2,100 days. She loves taking pictures, playing games, swimming, and playing on the computer and her tablet. She also loves the Disney Channel and cooking pasta. She is looking for a family who will give her the love and support needed to reach her full potential.
Quentrell has also been ready for his forever family since October 2016. He enjoys meeting new people and making new friends. He loves spending time with the elderly, acting, and pets! He also desires to maintain contact with some of his biological relatives.