The Beginnings
of
Geaux Bags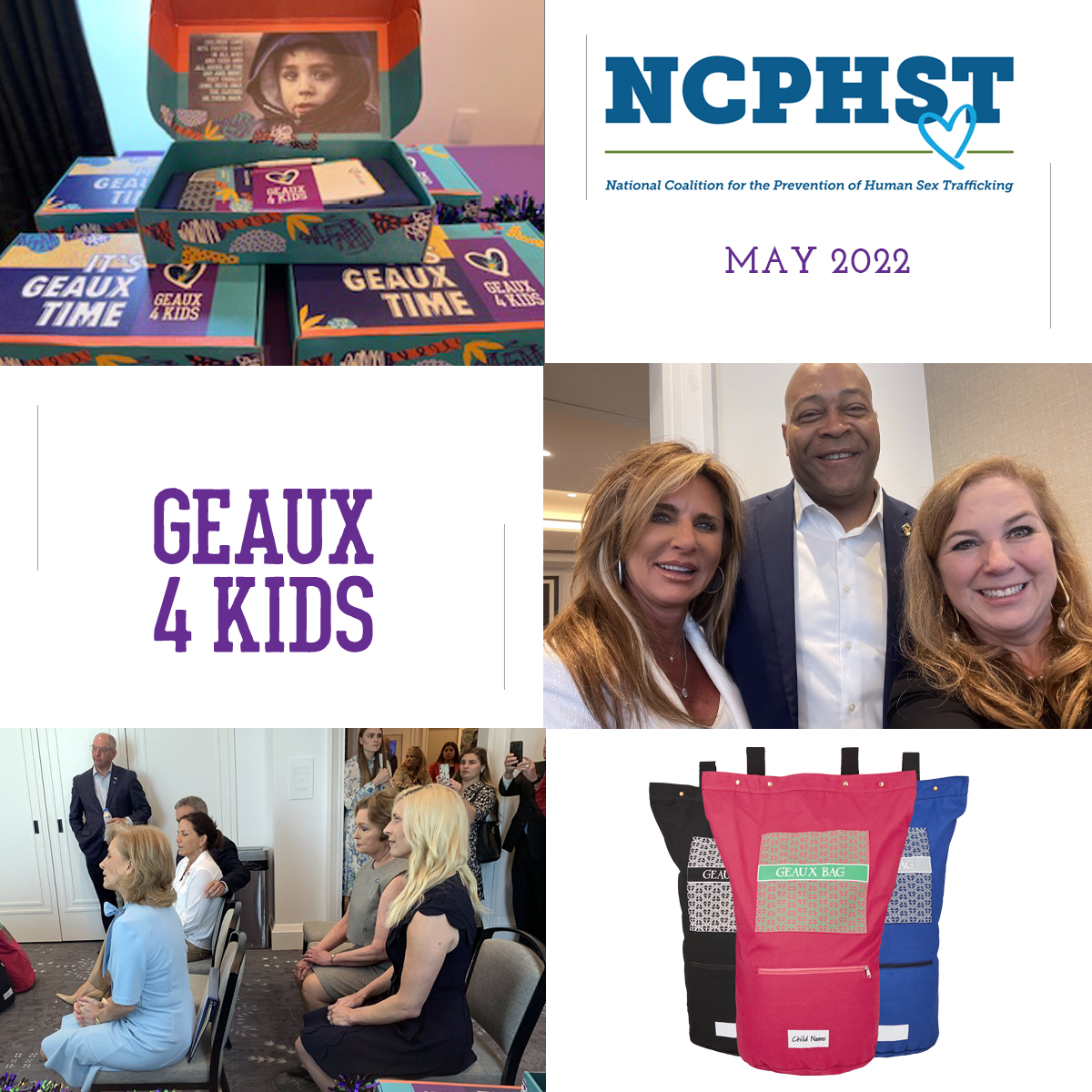 THE BEGINNINGS OF
GEAUX BAGS
Founder K.C. Kilpatrick began the Geaux Bags as an independent, grassroots effort after becoming a foster parent in 2013, and discovering how stressful the initial 24 to 48 hours of receiving children into foster care were and how impossible it was to prepare adequately. So, she began purchasing supplies at her own expense and distributing supplies to the smallest victims of crime out of the trunk of her car. In 2019 Geaux Bags went statewide, and in 2020 expanded to trafficking victims by adding Law Enforcement as distribution partners.
The Founders Story
K.C. started Geaux Bags from a painful, personal experience as a new foster-to-adopt mother in 2013. The children she accepted into her home were rescued into protective custody. Unfortunately, they were criminally abused, neglected, and left with only the clothes on their backs.
As she searched through the few belongings they brought with them, she was shocked to find a meth pipe. At the time of their rescue, her now-son was 1 1/2, 11 pounds, and wearing a size three months clothing. Her now-daughter was 2 1/2 years old, 17 pounds, and wearing a size 18 months clothing. Their biological mother and biological father were turned in to Law Enforcement and Department of Child and Family Services (DCFS) by their maternal grandmother, demonstrating some of the complexities families face when DCFS gets involved.
Many calls were made to law enforcement before her children were surrendered into her care.
When the children arrived at her home, they were in crisis and chaos. But strangely, they had exhausted relief to be with strangers, rather than being in their previous, toxic environment.
As prepared as she was with training – personally and professionally – she wasn't designed for the initial overwhelming panic followed by a strong protective love that instantly developed. She had a driving need to do whatever it took to make them "ok."
The Mission
Geaux Bags started out of that personal & practical place — a drive to get her kids what they needed, which included a pack of underwear, pajamas, toiletries, pillows, blankets, backpack, water, snacks, a note of encouragement, and available comfort items.
Born out of her experience, Geaux Bags has grown to serve:
Children rescued into protective custody of foster care.
Children recovering from domestic violence.
Children exposed to opioid environments.
Children who are being trafficked.
These children usually have been stripped of their hope, dignity, and fundamental self-awareness. These children are in crisis. These children are not at fault. There are complex systems at work. These children are the most vulnerable and at-risk and often have layers of trauma and adverse experiences.
Geaux Bags is grateful to use the Department of Children and Family Services and Law Enforcement distribution partners as they have grown. Geaux Bags is now located in every region of each DCFS/LEO statewide, serving 64 Louisiana parishes.
Activation occurs through the initial 911 experience with these agencies to serve these smallest victims of crime. Since starting from a grassroots effort in 2013 in the back of her car — Geaux 4 Kids project, Geaux Bags has served 13,000 kids in crisis with a direct investment to children of 1.3 million dollars of "first-night necessities."
Please visit https://www.geauxbags.org to find ways you can get involved.